Welcome !!!
It is our hope to make use of this Website to help you always be connected
with our Parish and its members, and in a way with God. 
Mission Statement
Through the intercession of Mary our Mother and Saint Jerome, we the parish families of Our Lady of Hope are called to live and proclaim the Gospel of Jesus Christ. We strive to grow as a vibrant and welcoming community through worship, evangelization, and ministry to those in need by sharing the resources, time, and talents given to us by God.
---

Celebrating the year of St. Joseph.  For further information, click on the tab for Faith Formation
---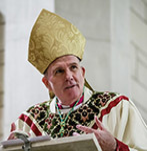 Dear Sisters and Brothers in Christ:  (Bishop O'Connell's letter to parishioners May 2021)
I write to you today to highlight our 2021 Annual Catholic Appeal and ask you to consider supporting this worthy cause.  I reach out with a sense of urgency given the reality of how the pandemic has impacted this year's Appeal and the people we serve.
Throughout the pandemic, the Diocese and our parishes have remained steadfast in our outreach, serving our communities.  All this work requires resources. None of it can happen without your support.  As St. Teresa reminds us: "Together we can do great things."
I ask that you prayerfully consider a gift to the 2021 Annual Catholic Appeal so we, together, may continue the work of strengthening parish and family life, evangelizing our community and our world, and reaching out to those in need with love and compassion.
Thank you in advance for whatever support you can provide for the significant work that lies ahead.  I will continue to keep you and your family in my daily prayers.
Yours in Christ,
Most Reverend David M. O'Connell, C.M.
Bishop of Trenton
Parish of Our Lady of Hope's Goal: $60,000
As of October 04, 2021: Collected $38,329 with 162 Donors