Welcome !!! 
It is our hope to make use of this Website to help you always be connected 
  with our Parish and its members, and in a way with God. 
Mission Statement
Through the intercession of Mary our Mother and Saint Jerome, we the parish families of Our Lady of Hope are called to live and proclaim the Gospel of Jesus Christ. We strive to grow as a vibrant and welcoming community through worship, evangelization, and ministry to those in need by sharing the resources, time, and talents given to us by God.
                                            _______________________________________________

Dear Sisters and Brothers in Christ,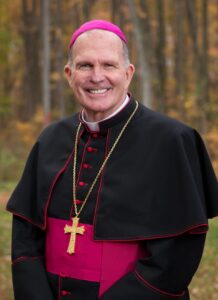 As Bishop, each year I look forward to inviting you to witness the good works that our ministries are doing every day in the Diocese of Trenton and our parishes. Possibly you, a loved one or a friend have experienced or seen the "gift" of one or more of these ministries in action.
In St. Matthew's Gospel, the Lord Jesus commissioned his disciples, "What you have received as a gift, give as a gift!" (Matthew 10:8) These words are a reminder that we should be grateful for the many blessings we have received from God in our lives and that we, in turn, should give of ourselves through our time, talent and treasure. The Lord's words are addressed to us!
I am humbled and thankful for your many years of continued support and ask you to prayerfully consider your gift to the 2023 Annual Catholic Appeal so that the Church within our Diocese may continue to be a beacon of love and faith for all God's people. Together we can do great things!
I will continue to keep you and your loved ones in my prayers.
Gratefully yours in Christ,

Most Reverend David M. O'Connell, C.M                                                                                                                                                        
Bishop of Trenton